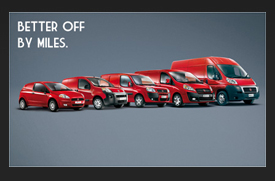 Expert Commercial Servicing
It's vital that you have your Alfa Romeo or FIAT serviced at the recommended intervals. Fully factory trained technicians with the know-how to care for your car to the highest possible standards staff Auto Maintenance Services' modern comprehensively equipped workshops. Should you need repairs beyond the usual requirement, please contact us for a quotation.

We provide a number of services as listed below:-

>>  Specialising in Fiat & Alfa Romeo vehicles.

>>  Processing warranty claims for the above vehicles.

>>  Servicing and repair to all other manufacturers.

>>  Our mechanics are factory trained.

>>  Our mechanics are trained on all modern vehicle network systems.

>>  Engine Diagnostics Mechanical and Electrical.

>>  Tyre Service (replacement tyres, tracking and balancing).

>>  Panel shop facilities.

>>  Emission Testing/ Petrol and Diesel Vehicles.

>>  Head light alignment.

>>  In-house Transmission Repair Service.

>>  Brain Bee Scan Tool System for diagnosing and repairing systems such as engine management, air bag/SRS systems, ABS etc (On all vehicles).

>>  Valet Service.

>>  Collection and return service.

>>  Pre N.C.T Testing

>>  Car/Van Hire.